Talks that inform & inspire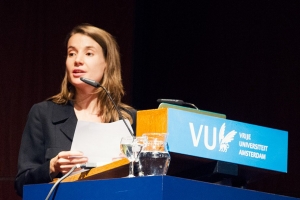 I love speaking about my passions: worldviews, the environment, changes in contemporary culture, transformation, leadership, and the possibilities that open up when we tap into human potential, among others. I love sharing my ideas and research findings with groups, as well as opening up a space of exploring together. While I attempt to engage in a personal and heart-felt way, I also enjoy presenting solidly argued and scientifically supported perspectives, based on my background in academic research. Or, in other words, I try to connect head with heart, hoping to not just inform people, but also inspire them.
I have spoken on numerous national and international conferences and symposia, and have also taught multiple courses at the university-level.
Here is a selection of titles and occasions of some of these talks:
Duurzaamheid in perspectief: de psychologie van wereldbeelden. Impact Academy, the Netherlands, 2016.

The science of the emerging, integrative worldview and its potentials for global change. Science and Non-Duality Conference, San Jose, USA, 2016.

Worldviews and their potential for bridging technological and social innovation for a bio-based economy. Distinguished Lorentz Fellowship Workshop, Leiden University, the Netherlands, 2016.

Climate change and the clash of worldviews. How integral can help us move forward in a polarized debate. Integral Theory Conference, Sonoma State University, USA, 2015.

Leadership in the 21st century. Erasmus University, Rotterdam, the Netherlands, 2015.

The many faces of globalization: Worldviews and the transformation to sustainable societies. The Hague University, the Netherlands, 2015, 2014, 2013.

Why we disagree about climate change: A clash of worldviews? American Academy on Religion, San Diego, USA, 2014.

The integrative worldview and its potential for contemporary planetary challenges. Integral Europe Conference, Budapest, Hungary, 2014.

Motivations for nature conservation in the light of changing worldviews in society. Symposium Ministry of Economic Affairs, The Hague, the Netherlands, 2014.

Worldviews, sustainable development, and the bio-economy: Understanding a polarized societal debate. UC Berkeley, USA, 2013.

An integral perspective on the (un)sustainability of the bio-economy. Integral Theory Conference, Pleasant Hill, USA, 2013.

Worldview-awareness as a tool for transformation. Transformation in a changing climate conference, Oslo, Norway, 2013.

Reflexive communicative action for climate solutions. Climate, culture, and politics conference, Boulder, USA, 2012.