Talks that engage and inspire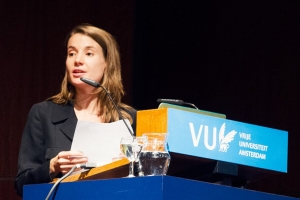 I love speaking about my passions and sharing my research findings. However, more than holding a monologue, I enjoy opening up a space of exploring together.
Through engaging questions, small group dialogues, fun exercises, and somewhat bold, introspective practices, I attempt to engage, inspire, and challenge the group.
I have seen time and again that people connect more deeply with what is spoken about when they have opportunities to share their own views, connect with other people, and are playfully challenged in their assumptions.
Over the years I have learned that this approach provides a doorway to deeper engagement and self-reflection, inclusion of different perspectives, and more generative dialogue.
I have spoken on numerous national and international conferences and symposia, and have also taught multiple courses at the university-level.
Scientifically substantiated and accessibly presented, Annick encouraged self-reflection by inviting us to explore our worldviews. This generated understanding for the different ways in which people and organizations tackle challenges … More clarity about our values also brought depth to the panel discussion that followed. Annick's contribution offered a valuable, refreshing, hopeful, and unitive perspective on the common challenges of our time. It really made us all think in a different way.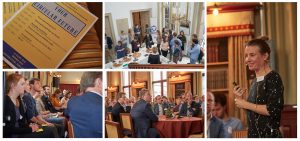 Annick speaking at the 'Your Circular Future' event in Haarlem, 2018.
Selection of titles and occasions of talks
NatuurCollege #2 – Transformative Solutions. Evening together with Peter Blom and Froukje Jansen, in De Nieuwe Liefde, Amsterdam, 2018.

Worldviews & circular economy. Interactive keynote lecture at the event 'Your Circulair Future' in Haarlem, the Netherlands, 2018.

Duurzaamheid van binnenuit. Huis van Compassie, Nijmegen, the Netherlands, 2018.

Evening with the NatureCollege at De Nieuwe Liefde. Speakers include Professor Matthijs Schouten, Professor Klaas van Egmond, television-maker Froukje Jansen, and myself. Amsterdam, the Netherlands, 2017.

Talk at an educational conference, with the theme 'Learning to live together, working together towards an inclusive society.' Conferentie met als thema 'Samen leren leven, samen werken aan een inclusieve maatschappij.' Utrecht, the Netherlands, 2017.

Worldviews & the transformation towards sustainability, Master's course 'Perspectives on Sustainable Development', Utrecht University, the Netherlands, 2017.

Duurzaamheid in perspectief: de psychologie van wereldbeelden. Impact Academy, the Netherlands, 2016.

The science of the emerging, integrative worldview and its potentials for global change. Science and Non-Duality Conference, San Jose, USA, 2016.

Worldviews and their potential for bridging technological and social innovation for a bio-based economy. Distinguished Lorentz Fellowship Workshop, Leiden University, the Netherlands, 2016.

Climate change and the clash of worldviews. How integral can help us move forward in a polarized debate. Integral Theory Conference, Sonoma State University, USA, 2015.

Leadership in the 21st century. Erasmus University, Rotterdam, the Netherlands, 2015.

The many faces of globalization: Worldviews and the transformation to sustainable societies. The Hague University, the Netherlands, 2015, 2014, 2013.

Why we disagree about climate change: A clash of worldviews? American Academy on Religion, San Diego, USA, 2014.

The integrative worldview and its potential for contemporary planetary challenges. Integral Europe Conference, Budapest, Hungary, 2014.

Motivations for nature conservation in the light of changing worldviews in society. Symposium Ministry of Economic Affairs, The Hague, the Netherlands, 2014.

Worldviews, sustainable development, and the bio-economy: Understanding a polarized societal debate. UC Berkeley, USA, 2013.

An integral perspective on the (un)sustainability of the bio-economy. Integral Theory Conference, Pleasant Hill, USA, 2013.

Worldview-awareness as a tool for transformation. Transformation in a changing climate conference, Oslo, Norway, 2013.

Reflexive communicative action for climate solutions. Climate, culture, and politics conference, Boulder, USA, 2012.