I've been writing since I was a kid. It started with journalling, which I've done since I was about twelve years old. Journalling helps me understand, reflect, explore, organize, and expand my thinking. It's been a life-saver for me, as well as an important channel for my creativity. I'm a big believer in the power of words!
On this page you can find more information on my popular, that is, non-academic writing (though the boundaries are not always crystal-clear): a book, opinion pieces, columns, and some Medium articles.
Book: 'Sustainability from the inside out' (in Dutch)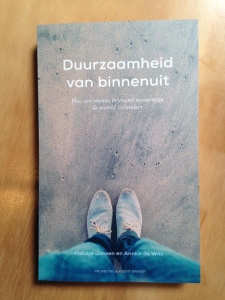 Co-authored with Froukje Jansen, published by Prometheus (2015). Buy the book at Bol. The title may be translated as: "Sustainability from the inside out. How a new, sparkling consciousness is changing the world"
From the back of the book:
"When looking with observant eyes, we see that a new, sparkling consciousness is emerging with respect to sustainability, and the intimate relationship human beings have with the natural world. This shift is important because sustainability does not only demand technological solutions and institutional regulations, but also a restoration or even transformation of the relationships between humanity and nature, between people, and between the human being and himself. This we could call 'sustainability from the inside out.'
This book tells the engaging stories of ten well-known and lesser-known sustainable leaders in the Netherlands, including, among others, Princess Irene, Peter Blom, Klaas van Egmond, and Tom van de Beek. For each of them a deeply personal quest has laid the foundation for their professional engagement with sustainability issues.
Sustainability from the inside out tells the stories of these profound personal quests, as well as the different aspects of the larger transformation of consciousness and action that is so urgently needed in our world. It discusses, among others, the role of science, politics, business, media, nature conservation, agriculture, money, and contemporary spirituality.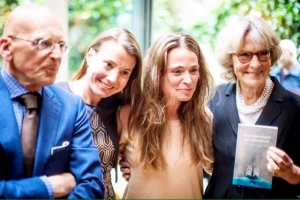 Froukje Jansen is a nationally-renowned program maker and debate leader with a strong social profile.
Dr. Annick de Witt is a researcher and lecturer at the Delft University of Technology, specializing in the cultural and psychological aspects of sustainability."
On this picture we see both authors (in the middle), the publisher (left), and Princess Irene (right), who received the first copy of the book on June 4th 2015.
Articles in newspapers and magazines
Articles on Medium
Columns in magazine IS (Dutch only)